The Smash Up burger food truck was started by Matthew Beagan after a successful Kickstarter campaign in 2021 that raised $30,000 in one month. The immense interest of the community inspired Matthew to band together the food truck within 6 months. So, during his sophomore year at Boston University while studying Acting, he organized the kitchen and the business to start up in May 2022.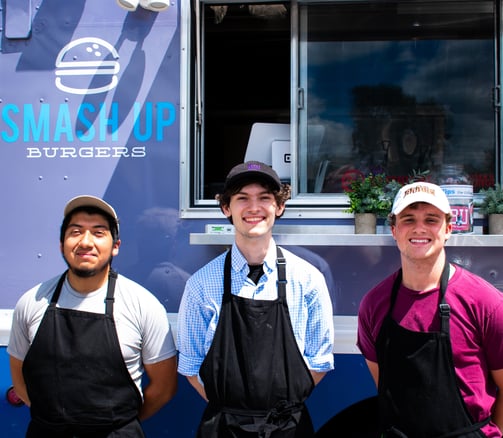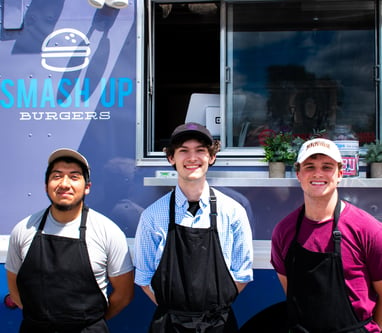 Matthew had always taken an interest in the "smash" burger. When COVID hit during his final semester in high school, he started working on his senior project which constituted of a business plan of a restaurant. This 18 year old had been working in restaurants for the past 3-4 years so it was a shoe in, it seemed. He would do a business plan of a burger brick and mortar restaurant. Something simple, he thought. With the help of Dick Franyo and Tony Moynagh, two local Annapolis restaurant owners, he banded together a business plan of burgers, fries, and shakes. And with that, he needed product pictures. So after 4 years of trying different recipes, ingredients, and techniques, during May 2020, he perfected his burger.
After his senior project presentation, Matthew hosted a pop up at his house where his peers could come and try his burger. The first event was so successful that he went out for the next 3 weeks to serve them. A few of his close friends mentioned actually doing this in the form of a food truck. So, the idea for the fundraiser was born.
Along with studying Acting, his entire freshman year at BU constituted of researching food businesses and food trucks so that he could prepare enough to run a successful fundraiser. Granted, he had worked in the restaurant business for the past 5 years of his life at Lures Bar & Grille and Boatyard Bar & Grill, but there was still much to learn.
Fast forward to now, 3 years after the senior project, Smash Up Burgers is excited to return to their second year after a successful first to sell the best burgers, fries, and soft drinks to the Anne Arundel Community in Maryland.
Hours
Wednesday-Sunday 11am-8pm